Drag & Drop emails and attachments from Outlook to

your browser.

Microsoft Teams.

Sharepoint.

your CRM.
DragDrop Online
From Outlook on the Web (OWA) to anywhere.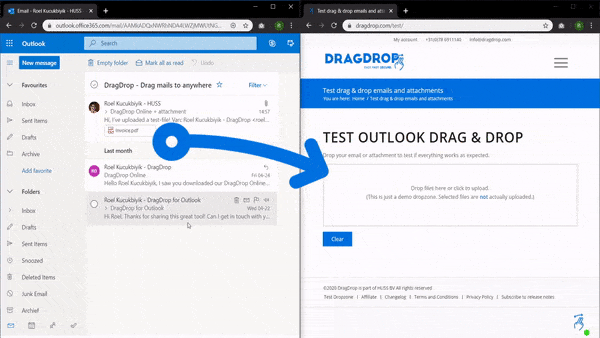 Save email to eml format right out of Outlook Online
Drag attachments to any destination
Support for Shared Mailboxes
Support Office 365 Outlook Online (outlook.office.com) and
Live mail (outlook.live.com)
Both on the new Edge and Chrome browser
Why DragDrop?
We wanted to overcome the slow proces of getting an email out of Outlook into your CRM, document management system, ERP while cluttering your desktop with emails.
So we created DragDrop for Outlook. DragDrop for Outlook is an Outlook add-in that loads with your Outlook Desktop Client and creates the drag and drop functionality with conversion options in the background. Easy, without bothering the user with any configuration.
While companies are moving to Office 365 / Microsoft 365 and start using Outlook on the Web – also called OWA / Outlook Online – we used a similar process to not just be able to drag an email or attachment from Outlook on the Web to another browser but also to your desktop, explorer and any application that normally accepts a file drop.
Easy
Dragging mails and attachments directly from Outlook to anywhere has never been as easy as before.
Just install and start drag and dropping!
Fast
Save tens of hours per year.
Upload your email, attachment or even contacts directly to your web application in less then a second.
Secure
Leave no files behind.
DragDrop removes all temporary files to make sure no data is left behind with no protection. All email data stays safe on your local machine.
How does Drag & Drop work?
Does exactly what it says.
Support team were great at assisting with our licensing needs.
Best support ever!
Great presale support (trial versions, help with trouble shootings) – very quick response within one day or even faster – product works like a charme
Simple tool that helps a lot!
We are using the tool on a farm of terminal servers. Previously we had to save to a local drive, and drag into our Document Management Solution from there. Now we can drag and drop directly! Thanks 🙂

Simple and well supported process to obtain enterprise deployment. Helpful vendor. Product meets expectations and greatly improves efficiency when dealing with Outlook and cloud systems.